5/15/11
Bold, beautiful triple strand necklace has lovely, large pink-peach freshwater pearls, genuine peridot gemstone and garnet nuggets as well as crystal beads. This 18" bold necklace is absolutely gorgeous and will be the finishing touch to your look! 925 sterling silver clasps.
Cascading Pink Pearl Necklace-Genuine Pearl Length 17 in.
Elegant Pearl Necklace with trendy design
Milky Way Onyx and pearl necklace. By Nareerat, this opulent necklace is inspired by planets whirling in the darkness of space. She places each polished gemstone on sterling strands to create the adjustable choker. Deep black onyx, quartz crystal and rutile quartz are studded by luminous pearls.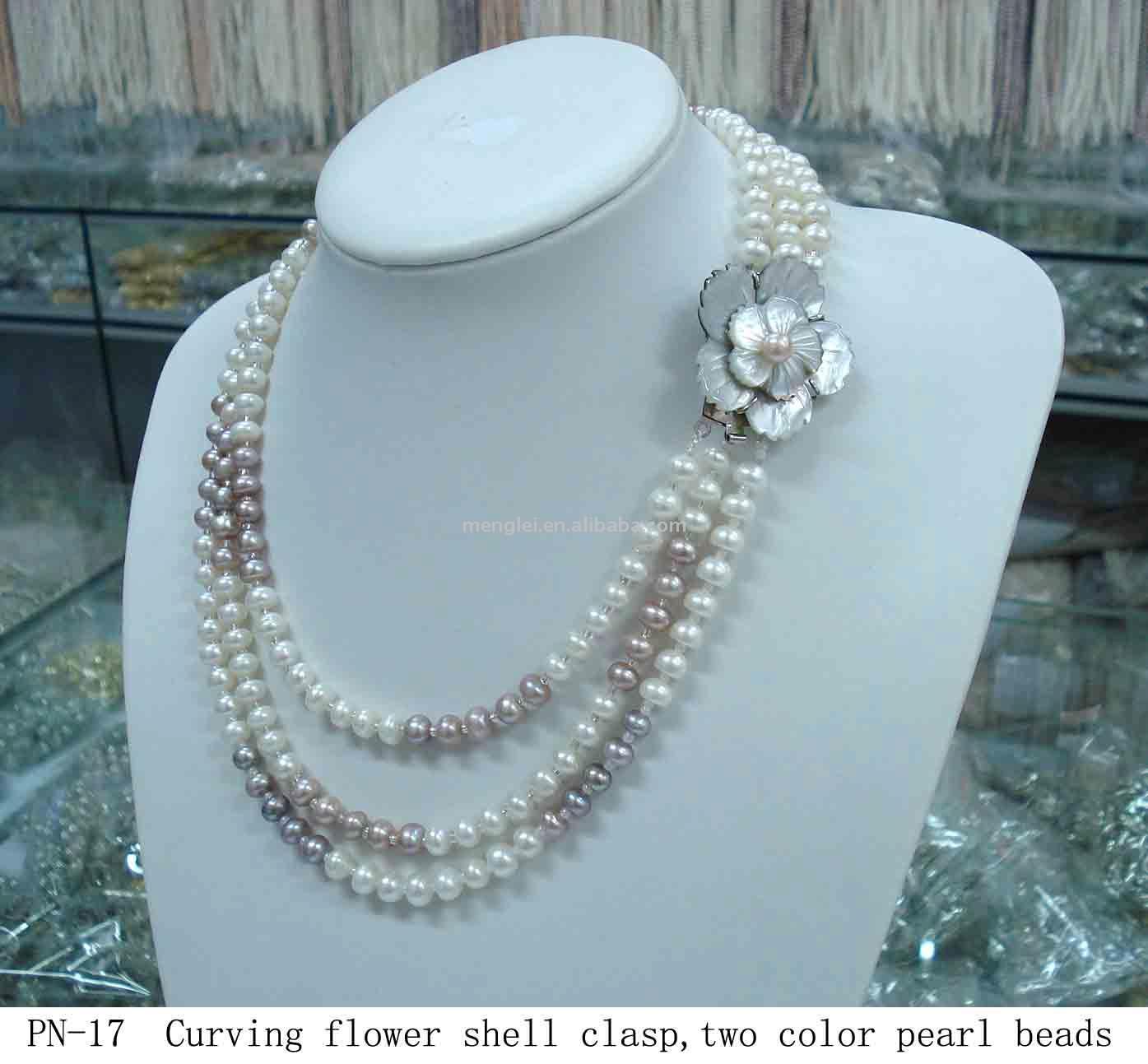 Cute and elegant Pearl Necklace design with flower design combination
Beautiful Pearl Necklace with peach color of pearls
Elegant Pearl Necklace with unique design
Glamor Pearl Necklace with elegance color of pearl
Transform your look with this breathtakingly beautiful pearl and ribbon necklace. Once again, the epitome of exquisite elegance, Lanvin, has created another masterpiece in its Two-Strand Pearl Necklace. Look adorably lovely with this two-strand glass pearl and crystal necklace is covered in delicate lace. If worn with your LBD, you are up for that Audrey Hepburn signature lady-like glamour with a touch of classic chic. What makes it perfect for an uptown elegance is the glass pearl and crystal two-strand necklace contained within a taupe lace and satin outer layer. It is handmade and has a taupe ribbon to fasten and comes in a signature blue presentation box. It even makes a great gift idea for her. The drop of necklace measures approximately 28 inches or 72 centimeters. Lanvin Two-Strand Pearl Necklace is a buy-now-wear-forever piece. For $856, this timeless splendor is going to be worth it.
Trendy and unique Pearl Necklace design
Elegant Pearl Necklace with cute color of pearls, green and white pearl color
Sexy Pearl Necklace design for wedding necklace
Beautiful white of Pearl Necklace with blue pendant